MJ Beds has been manufacturing bases and mattresses in our
modern high capacity factory
since
1997 
and our focus is on craftsmanship, cutting-edge design and superlative materials serving our re-selling distribution channels in KZN
.
Our business model is based on our sincere commitment, dedication and hard work that satisfies our customers with high quality products and service.
We have a qualified team to handle each and every stage in the production process to make our beds and service stand out in the market place. There is no compromise in our quality, pricing, timely delivery and after-market service – and that is why our valued customers keep on coming back!
Our products encompass all standard and non-standard bed sizes with a variety of product models to suit most customer requirements. Wherever required, we will work closely with our clients to provide a unique and exclusive model to fit market requirements.
We also cater to the hospitality and interior decorating trade, providing a range of beds in suitable sizes and configurations to meet all the comfort required by discerning clients.
MJ Beds (Pty) Ltd is fully owner managed providing its customers with simplified and dedicated access to all aspects of business needs and relationships where required. These needs include inter alia quality, delivery, service, marketing and accounts management.
Smooth operation of the factory is further supported by two floor managers and a customer interface/accounts manager boasting a combined 40 years experience in MJ Beds.
Factory staff average 12 although these numbers are supplemented by additional workers in times of higher productivity.
Timna – Dedicated customer liaison and our face in the field
Our bases are robustly engineered from kiln-dried timbers and are built in-factory by our specialised team. We offer choice of legs and side border fabric. Border fabrics are offered in jacquard, knit, linen or suede fabrics that obviates the need for a base frill and resists scuff marks and dirt.
Four or six legs, base heights ranging from 20cm to 38cm depending on model and customer specification.
Our sprung or foam mattresses are crafted using modern techniques and materials by our skilled teams. We use internationally recognized spring systems with innovative foam and spring combinations (such as latex or memory foam and pocket zone springs) that provide a dynamic response to natural body movement and reacts intelligently to individual body contours.
With over twenty five standard models to chose from, we are able to provide an appropriate bed for our clients needs, be it to fill a dormitory or to grace the bedroom of the most discerning customer. We are of course receptive to the individual needs of our clients and that has led to the development of exclusive and innovative lines of beds to satisfy their specific market demands.
Ranges include standard, Euro top, pillow top, no turn, all with varying specifications of foam laminated cores, foam sheets, springs and fabric to suit all markets and customer requirements.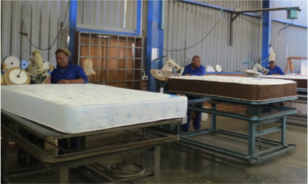 With respect to manufacturing inputs and outputs, our choice of suppliers is driven by the primary consideration of quality, consistency of supply and service. Our materials and services therefore represent some of the most respected and well known suppliers in the industry, with SABS and global standards of quality and product.
Our Customers and Branding
MJ Beds currently supplies the independent furniture and or bedding stores within KwaZulu-Natal. Some of our customers have four or more branches and are well represented across low to high LSM groupings.
We also supply indirectly or directly to the hospitality trade depending on location.
We will happily provide references from our customers where there is no direct conflict of trade.
Whilst we have a number of different brand names, we are focused on reducing these brands to the two main product ranges for which we own trademarks, i.e. the Etosha and Serengeti ranges. The Etosha range will comprise of lower to medium end models and the Serengeti range will comprise of medium to upper end models.
In addition, many of our customers have their own labels, either co-branded with MJ Beds or Unique to them, particularly for their exclusive designs.
Our fabrics are carefully selected to offer best in market product range and purpose.  Offering jacquard and knits, all are sourced from reputable and leading suppliers to the SA market with the majority of our supplies originating in Belgium.
Speciality fabrics include flame retardant or bio-guard treatments and bamboo fibres with natural coolness and freshness. 
Many of our beds have interchangeable fabric colours and properties to allow maximum flexibility of choice.